Atkins Diet Snacks and Supplements for the Low Carb Lifestyle
Atkins diet snacks are a great way to grab an extra bite to eat now and then without straying from your low carb lifestyle. Of course you can choose snacks of various fresh foods, but in this modern world where we all get so busy there are times when we need something to "grab and go" on the way out the door.
A Wide Selection of Snacks
As the low carb lifestyle has become more and more popular, the demand for Atkins diet snacks has grown as well. Now you can go just about anywhere – grocery store, convenience store, discount retailer, etc. – and find a wide selection of snacks and supplements.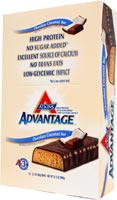 A few examples include:
Atkins Diet Bars – Best known as the Atkins Diet Advantage Bar, these come in just about every flavor and texture you can imagine. From granola to brownies, chocolate covered cookie dough to caramel nut clusters, you're sure to find a low carb diet bar in a flavor that you like. And surprisingly, these snacks even taste pretty good!
Atkins Baking Products - Enjoy low carb breads and muffins with Atkins low carb bake mix. You can make delicious, low-carb pancakes and waffles - just add water, oil and eggs. You can even make your own Atkins diet snacks such as low carb chocolate chip cookies and fudge brownies.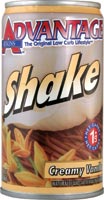 Shakes and Liquid Meals – The flavor variety of shakes and liquid meals is not as broad as the Atkins diet bar snacks, but there are still more options than just chocolate, vanilla and strawberry. You can buy these items pre-mixed in easy open cans and bottles, or you can buy the dried powder and mix it up yourself. The powder tends to cost less per serving, but the pre-mixed tends to be more convenient.
Vitamin and Mineral
Supplements
If you are on a low carb diet, consider taking vitamin and/or mineral supplements as well. They aren't necessarily required, but it doesn't hurt to keep your body healthy with extra nutrients. The benefits may not appear immediately, but over the long run, you will probably stay healthier and be subject to fewer aches, pains and illnesses. (Read my article on diet pills and the Atkins diet.)
Atkins Diet Supplements come in several forms, such as: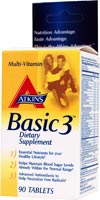 Tablets – These tablets may be coated or uncoated. They are very much like over the counter analgesics in shape, but may be larger in size.
Soft Chews – These have a texture sort of like caramel (but not as sticky) – very soft, easy to eat, and very easy to pop in your mouth quickly as you head out the door.
Liquids – These can be taken straight from the bottle in a teaspoon or other small measuring cup, or some can be mixed into other liquids like juice, water, tea, etc.
Powders – Vitamin and supplement powders are generally mixed into liquids like water or juice, but some are made to be sprinkled onto food. Check the directions before you buy to be sure which method is required.
My Advice
I stocked up on some of these Atkins Diet snacks right off the bat. Why? Because I just had to have my daily chocolate bar every time I went to the grocery store. The Atkins Diet Advantage bar kept me from temptation. As to the supplements, just remember, whatever form of supplement you choose, make sure that it is in a form that is convenient and suitable for your lifestyle.