Atkins Diet Shakes – Protein at Every Meal
If you can't eat right at every meal, Atkins diet shakes are a convenient way to stick as close as possible to the plan while adding variety as well as consuming vitamins and nutrients.
Ready to Drink Atkins Diet Shakes
The Atkins Advantage Shakes come in an 11-ounce container. They have 15 grams of protein and 1 net carb, in addition to a slew of other nutrients. Flavors include Milk Chocolate Delight, Dark Chocolate Royale, Café Caramel, Mocha Latte, Strawberry, and Vanilla. They feature:
15g Protein, 1g Sugar, 150 Calories, 1g Net Carbs
Excellent source of 24 vitamins and minerals
Acceptable in all 4 Phases of the Atkins diet
Convenient in a take-anywhere container
Tip: the taste improves if served very cold
User reviews: These tasty shakes are enough to satisfy a sweet tooth! As long as you avoid sugar products, your taste buds will adjust to these meal replacement shakes which contain a safe artificial sweetener.
Dry Mix Shake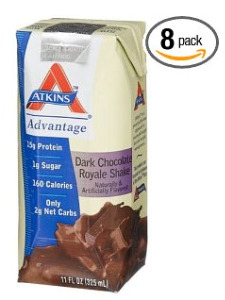 The dry powder mix for Atkins Diet Shakes comes in a 16-ounze container. To use, just add 1 cup of cold water to 2 scoops of powder, and blend or shake. Like the liquid shakes, use them for meal replacements. (Note: this product is not currently available.) They feature:
23g Protein, 2g Net Carbs
99% lactose-free
Each shake delivers a blend of 6 protein sources including glutamine peptides and whey protein isolator
User reviews: Unfortunately, the key problem with the dry mix shakes is that they don't mix well with water, and the taste isn't as good as the ready-to-drink shakes.
Are They Stallers?
While Atkins markets the shakes as acceptable to drink in all four phases, many dieters have found the shakes as well as the Atkins Advantage bars to be diet "stallers"; their weight loss stops while they are drinking the shakes regularly. That won't be true for everyone, but you will learn what you can tolerate while on the Atkins diet. One other potential disadvantage is that the shakes could act as a "trigger food" reminding you too much of the "real thing." If it is true for you, then it might not be a good idea to drink them.
One of the Better Shakes on the Market
You need protein at every meal and the shakes are a good way to get it, especially if you are an active person without a lot of time to do meal preparations. While other diet brands such as Slim Fast are loaded with sugar, the Atkins diet shakes are healthy and are designed to help curb sugar cravings – not trigger them. These replacement shakes are creamy and delicious, an ideal product for anyone trying to limit carbs and calories while increasing their protein intake.
Atkins Diet Snacks and Supplements for the Low Carb Lifestyle