Dr. Robert Atkins, The Atkins Diet Founder
Robert Atkins, the Atkins Diet founder, died at the age of 72, but his legacy lives on through the millions of people who continue to take a low carbohydrate approach to weight loss. Because of his innovative approach to diet and nutrition, the controversial cardiologist's life continues to create interest.
How Dr. Atkins Established His Diet Program
Dr. Atkins was a cardiologist and physician who worked with many patients who struggled to lose weight over the years. Looking for a better, more successful approach to weight loss, he read about a low starch diet that was outlined in a 1963 article in the Journal of the American Medical Association. Dr. Atkins was intrigued by the report and discovered that it helped him shed a considerable amount of weight. Over the next few years, he fine tuned his low carbohydrate diet and used it successfully with many of his patients.
Atkins Diet Founder Touts His New Approach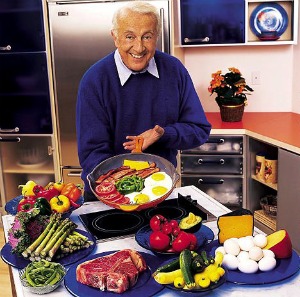 By 1965, there was considerable talk in the diet and nutrition industries surrounding Robert Atkins' new diet, which had been outlined in articles in numerous magazines. He also appeared on the Tonight Show, explaining the roles of ketosis and insulin in successful weight loss.
Realizing that there was a market for his unusual weight loss program, Dr. Atkins wrote and published Dr. Atkins' Diet Revolution in 1972. It was an immediate best seller, selling millions of copies within a few months. The popularity of the Atkins diet founder's low carb diet was impressive, but some medical professionals and nutritionists condemned the diet because it seemed to advocate wholesale consumption of fats. Debate raged over whether the high protein diet would actually be good for dieters in the long term. Over the next few years, specialists issued reports on both sides of the issue, some asserting that the diet was heart healthy, while others said it could lead to health problems.
The Atkins Center for Complimentary Medicine
In 1992, Dr. Atkins published a new book, Dr. Atkins' New Diet Revolution, which fine-tuned the diet and emphasized the need to combine the low carb diet with adequate exercise and appropriate supplements to ensure overall health. This book also quickly hit the best seller lists, and prompted the founder to open the Atkins Center for Complimentary Medicine, which helped thousands of patients lose weight over the years.
In 1998, Atkins Nutritionals was founded. The company developed, tested and produced a wide range of nutrition bars, snacks and shakes that were rich in protein and fiber, but low in carbohydrates. These sold quickly to dieters who were looking for flavorful alternatives to carb laden snacks while sticking with the Atkins diet.
Controversy Over Dr. Atkins Death
At the time of Dr. Atkins' death in 2003, he was 72 years old. The Atkins diet founder hit his head after slipping and falling on an icy sidewalk. Several days later, he died while in a coma. Controversy quickly followed when part of his medical records was released to the public. Because his weight at death was 258 lbs, which is considered obese for a man of his height, opinion quickly turned against his diet.
His attending physician, however, maintained that his excess weight was attributable to bloating and excess fluid retention due to his failing organs. Hospital records on his admittance recorded his weight at a healthy 195 pounds. It's important to note that Dr. Atkins' physician did not deny that the Atkins diet founder had a heart condition, but that the condition was caused by an infection and was not related to his diet.